Golf Performance Evaluation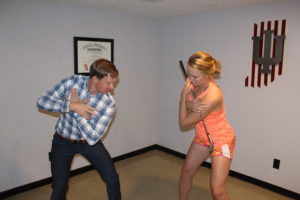 Since the late 1990's, the game of golf has seen a seismic shift in how player's at the highest level prepare and maintain their bodies for competition. Player's are more powerful, more athletic and better equipped at an earlier age to perform at the highest levels while older players are extending their careers at incredibly high performance levels.
The game has reached a point where its participants do not need convincing that better fitness, biomechanics and health will improve their chances of playing their best. Today's golfers need to be convinced that their instructors are up to date with the latest information on the sport. Golfers want to trust their coach, instructor or practitioner. TPI Certification gives golfers that trust!
Golf fitness isn't about looking like a bodybuilder or the best player on Tour. It's about being fit to play the game at an individual's highest level and doing so without causing injury. It's about understanding how a body's limitations can influence the golf swing and how to address those limitations through the proper channels; whether it's through swing instruction, physical rehabilitation or strength and conditioning exercise. It's about understanding the latest technology and how that technology can be implemented to increase performance. How do you get this knowledge to help players get fit to play their best golf? Through TPI Certification.
TPI Medical Certification gives medical professionals golf-specific injury assessment and rehabilitation techniques to get players back in the game. TPI has spent almost two decades studying one thing – the Body-Swing Connection™. There are injuries associated with the golf swing that few understand better than TPI. Medical Certification looks at how these injuries develop, how to access and treat injuries and how specific physical limitations can be addressed to improve performance.
Ask about availability and cost. We understand you may have questions on the cost and availability of PT for you. Please complete this form and we will answer any questions you have and will help to explain the value we can provide to you and your body.
Free 20 minute discovery session. We understand you may not be sure if we can help with your problem or what exactly we do. Many people have had a bad experience with physical therapy in the past and I want to help alleviate your concerns. Please fill out the form and I would be happy to set up a time for us to talk and determine if my expertise can help benefit you.