Selective Functional Movement Assessment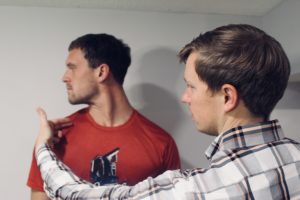 Josh founded Movement Authority with the sole principle of returning patients to MOVE without feeling inhibited by pain or discomfort. Movement and activity are the keys to a long, healthy life. He developed a special interest in this and has built upon the foundation with continuing education in the Selective Functional Movement Assessment. This system guides the majority of his treatments.
The Selective Functional Movement Assessment (SFMA) is a series of 7 full-body movement tests designed to assess fundamental patterns of movement such as bending and squatting in those with known musculoskeletal pain. When the clinical assessment is initiated from the perspective of the movement pattern, the clinician has the opportunity to identify meaningful impairments that may be seemingly unrelated to the main musculoskeletal complaint, but contribute to the associated disability. This concept, known as Regional Interdependence, is the hallmark of the SFMA. A great example of this is that limited ankle motion can actually cause hip, knee, or even back pain in a squat because of compensations required due to lack of ankle motion.
The assessment guides the clinician to the most dysfunctional non-painful movement pattern, which is then assessed in detail. This approach is designed to complement the existing exam and serve as a model to efficiently integrate the concepts of posture, muscle balance and the fundamental patterns of movement into musculoskeletal practice. By addressing the most dysfunctional non-painful pattern, the application of targeted interventions (manual therapy and therapeutic exercise) is not adversely affected by pain.
Ask about availability and cost. We understand you may have questions on the cost and availability of PT for you. Please complete this form and we will answer any questions you have and will help to explain the value we can provide to you and your body.
Free 20 minute discovery session. We understand you may not be sure if we can help with your problem or what exactly we do. Many people have had a bad experience with physical therapy in the past and I want to help alleviate your concerns. Please fill out the form and I would be happy to set up a time for us to talk and determine if my expertise can help benefit you.